Remember the days when you used to want to look older? Wanted to be mistaken for one of the big kids? Or to get away with buying alcohol before you were 21?
Now we get offended when the grocer doesn't ask to see our license, because he can see the proof of age in our crow's feet and dark circles.
Rather than progressively becoming more depressed about getting older, you should be able to embrace your age—and look great while you're at it.
To combat this progressive thing we call aging, we've found the four most important tips to help you look and feel as youthful as you can:
1. Stay out of the sun
We know you've heard it before, but the reason we repeat it is because it's so true. The sun will zap energy and vitality from your skin.
Even though a deep tan was once thought of as healthy for you, we know now that it not only causes sunspots and premature aging, but it could endanger your life by putting you at a higher risk for skin cancer.
Think about it this way, a tan only lasts for a week or so, but the negative effects it has on your skin and health could last for the rest of your life.
2. Keep exercising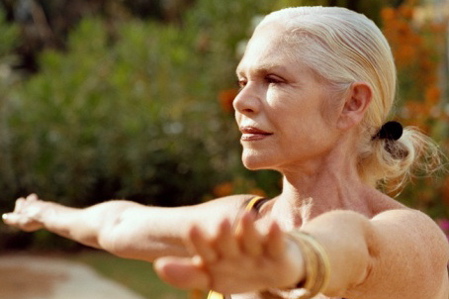 This is another tip that is constantly pounded in our heads. Hundreds of studies have shown that exercise not only helps you burn calories and build muscle, but it will combat the loss of stamina and bone loss that increases with age.
The American Heart Association recommends doing a single set of 8-15 repetitions of 10 exercises three times a week for a nice. Aerobic activity also helps your heart get in shape, which stimulates a healthy blood flow. A healthy blood flow is about the best thing you can do to get younger looking skin.
3. Eat your fruits and vegetables
Fruits and vegetables are full of vitamins and minerals that will help you hold onto your youth.
As you age, your need for vitamins and minerals increases because your body stops producing as much of the good stuff naturally. For example, by age 70 your body only produces 40% as much Vitamin D as it did when you were in elementary school.
To be safe, try to get your governmental recommended 5 servings of fruits and vegetables a day. It wouldn't hurt to take a reputable multivitamin on top of that.
4. Look for creams and procedures
You don't need to run to a plastic surgeon or get a Botox injection when you notice a new wrinkle. A lot can be done with a high quality eye cream or other skin products.
Not all eye creams are high quality. To find a good one, look for a cream that has lots of peptides. Peptides rebuild and revitalize your skin by addressing the root of your aging problem.


Although some of these tips might seem like old news, all the newest research has shown that they're still extremely pertinent. If you're looking for a way to turn back the hands of time, consider putting some of these tips into action.